1989. A gnarly Moscow girl
The first acknowledged beauty in the USSR became a 17-year-old Moscow girl Yulia Sukhanova. A tall, skinny, gnarly high school student left behind her competitors with the sixth (without overestimation) size of breasts. Anyway, a high school student with parameters 91-59-90 was called the most beautiful girl of the Soviet Union. After her victory Yulia left for the USA and started her modelling career there.
1990. A typical Slavic woman
A winner of the next year contest Masha Kezha has always been ashamed of her skinny figure and big (175 cm) height. She went to the contest of models reluctantly. However, blue eyes, dark blond hair, and a figure slender as a withy cleared Masha's way into the world of modelling business. Having won the title of 'Miss Vitebsk' a 17-year-old student started for the Soviet beauty contest and got there a crown of 'Miss USSR-1990'. According to Masha, one had just to possess an appearance of a 'typical Slavic woman.'
1991. Tatar zest
'Miss USSR-1991' was completely different from its ancestress. A black-browed brunette girls from Saratov, Tatar by her origin, Ilmira Shamsutdinova was a posed counterpoint of a 'typical Slavic girl' Masha from Vitebsk. Only the parameters of Soviet beauties' figures were left unchanged. Ilmira was the same slim and long-legged as previous 'Misses', which was sooner her mother's merit who is an eurhythmics coach.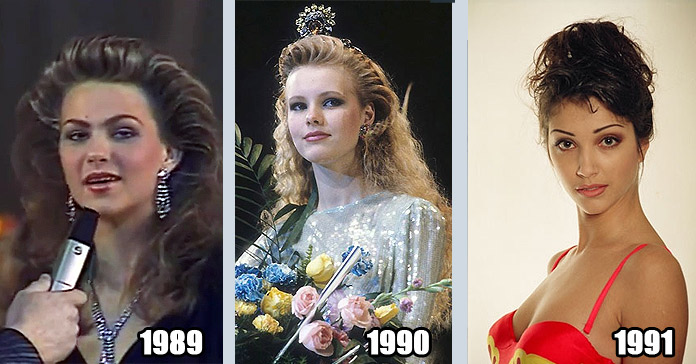 1992-93. The face of shaping.
In 1992, when the contest started its work in the 'Miss Russia' format, a crown found itself again on a brunette head of Anna Baichik. The same as her ancestress, a 16-year-old Anna has something to do with fitness. In fact, she found herself at the contest at the suggestion of St. Petersburg Shaping Federation as a winner of the title 'Face of shaping 93.' As a consequence, a future student of the faculty of journalistic and now an associate professor and a Candidate of Political Sciences went down in history as the first winner of the title 'Miss Russia.'
1995. Green eyes
In 1995, with the victory of Elmira Tuyusheva, the Tatar from Kaluga region, the standards of Russian beauty decreased again – to 84-60-88 cm. At the same time, Elmira was highly competitive with her ancestresses with better figures. There are rumors about a slim green-eyed beauty with dark blond hair and big sensitive lips became a favorite of the jury on the stage of single-source selection. After getting a title of 'Miss Russia' Elmira went on with her successful career in modelling business and also was filmed in secondary roles.
1996. Fatal beauty
A national zest still rules on the 'Miss Russia' contest. In '96 the title was given to a hot brunette Sasha Petrova from Chuvashia (88-60-90). Despite her worldwide acceptance, a burst of resounding victories on various contest – from the world's art championship to 'Miss Model International' and an invitation to work in Hollywood, Sasha stayed at her home Cheboksary where she got a title of 'A Person of the Year – 97'. Unfortunately, Sasha's life ended in 2000. The girl was shot two days before her twentieth birthday.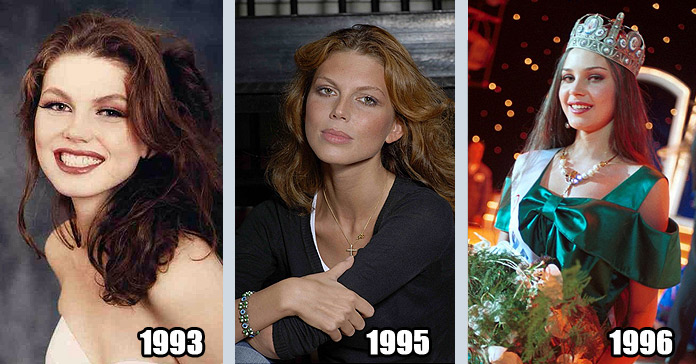 1997. European format
A blonde girl from Samara Elena Rogozhina gave the contest its feminine forms back. Her parameters were 94-59-92 cm. However, with height equal to 178 cm this difference was slightly visible. Nevertheless, the contest's jury obviously guessed the trend and in two years, in 1999, Rogozhina confirmed her right to be called a model of beauty. She became a possessor of the 'Miss Europe' title.
1998. Five years later
The story of 'Miss Russia 1998' Anna Malova perfectly demonstrates variability of public tastes and what is called beauty standard. In her first contest in 1993 a blonde 16-year-old girl from Yaroslavl won only the second place having given way of 'Miss Russia' crown to a brunette from St. Petersburg Anna Baichik. Instead, five years later a jury of the same contest acknowledged Anna who became adult and got modelling experience to the first beauty of the country. By the way, Anya's figure and height was very much like those of her ancestress. With the height of 178 cm parameters of the girl were 92-61-92.
1999-2000. Taller and taller
A possessor of the 'Miss Russia 1999' title got her deserved crown in January 2000. A dark blonde student from Kazan Anna Kruglova won in the contest. She was earlier acknowledged to be the first beauty of the native land on 'Miss Tatarstan' contest. The girl's height is 180. At the same time, her parameters of figure were practically the same as those of previous Russian 'Misses.' It is interesting that this year the first beauty in the country was chosen not by jury members only but simple spectators as well. According to the data of the contest, about 64 thousand of people took part in the polling. They chose Anna as the winner.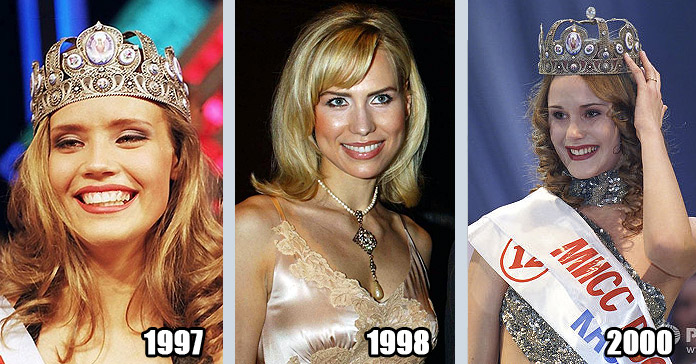 2001. Through the Universe
The first and still single possessor of titles 'Miss Russia' and 'Miss Universe' Oksana Fedorova got both in 2001. At that time she was considerably older than her ancestresses, she was 23. In addition, she had more outstanding forms. With her not short height of 178 cm and parameters 88-43-93 a long-legged brunette Oksana Fedorova made standards of the Russian beauty closer to a classical, more feminine 'pear' figure (thigh circumference is a bit bigger than chest circumference). For a wonder, these are the standards which suited the taste of international jury and let Fedorova got a status of 'Universe beauty.'
2002. Northern wind.
In 2002 brunettes gave ground again. A blonde citizen of Karelia Svetlana Koroleva became 'Miss Russia.' The queen can be called a model of classical 'northern' beauty. Regular features, a tall slim figure, fair hair, grey eyes. There is no wonder that a beauty from Russian North managed to charm European jury and get the crown of 'Miss Europe' in 2002.
2003. Viva breasts!
A girl from Rostov-on-Don Victoria Lopireva who is now a famous TV presenter and model became the first Russian 'Miss' who made models of Russian beauty closer to the typical image of American beauty. A long-legged blonde with pouty lips besides all the rest possessed the most outstanding breasts' size and feminine round thighs on the background of her ancestresses (Victoria's parameters are 98-64-94). Though, a regional zest is practically impossible to notice any specific Russian zest in Victoria's appearance.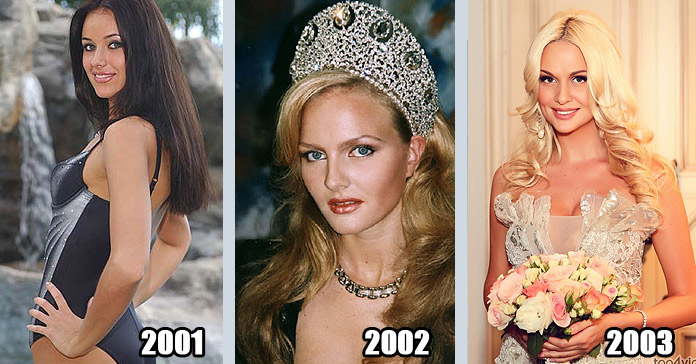 2004. And Tatar beauty again.
A national zest has come back in 2004 again, when Diana Zaripova got the crown and the title of 'Miss Russia' from Tatarstan. There is no point in reminding that a 19-year-old brunette Zaripova became the fourth winner of the contest with Tatar roots and has characteristic 'Tatar' features.
2005. Beautiful long plait
However, the next year jury's tastes changed significantly and the 'Tatar yoke' changed for traditional image of Russian beauty at the contest. A dark blond-haired Alexandra Ivanovskaya from Khabarovsk was called the first beauty, mostly because of her long plait that was 135 cm long. At the moment of getting of the 'Miss Russia' title the girl's hair was, surely, shorter. However, it didn't prevent Alexandra from winning and approve of a 'pear' figure as a model of woman's beauty.
2006. A girl from 'VIA Gra'
And again a representative of Rostov region wins the title of 'Miss Russia.' And again a blonde with big breasts Tatyana Kotova is acknowledged the most beautiful girl in the country. However, despite her being acknowledged in her motherland, Tatyana wasn't liked by the world's audience. Kotova took part in contests 'Miss World' and 'Miss Universe' in 2007. However, in both cases she didn't gain any special success.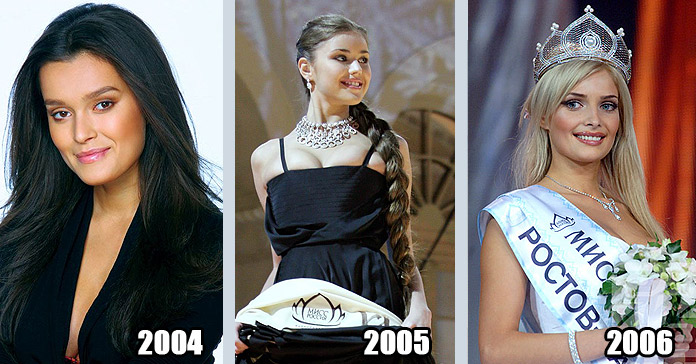 2007. Everybody to Siberia
In 2007 a Siberian girl became the most beautiful girl of the country. She was a citizen of Nizhnevartovsk Ksenia Sukhinova. Her ample curves quickly went out of vogue and the crown of 'Miss Russia' was put on a blonde head of slim and slender Sukhinova. Dark blond hair, blue eyes, and parameters of figure 83-60-91 probably seemed to the jury to be the model of the so called 'natural Russian beauty' which became the trend of 2007.
2009. Some erotic
After a standstill which lasted for a year (in 2008 the contest didn't take place) a contests of the beauties didn't give the country any special surprises. The possessor of the title became Sofia Rudieva from St. Petersburg – a tall brunette with grey and blue eyes, ballet school education and… again big breasts. The fact that when she was 15 the girl she took part in a frivolous photo session for men's magazine 'Perfect' speaks of her appearance much.
2010. Mistress of the Copper Mountain
Due to the 18-year-old Irina Antonenko from Ekaterinburg who seems to have gone down from the pages of Bazhov's fairy tales, a crown of 'Miss Russia' went to the Middle Ural for the first time. Dark hair and blue eyes are still in trend. This time the tastes of local beauty judges have almost coincided with those of foreign experts. In the contest 'Miss Universe 2010' Irina found herself in the number of 15 most beautiful girls of the world.
In 2011 the crown of 'Miss Russia' came back to Moscow. A student from Moscow higher educational establishment (RGGU) Natalia Gantimurova who came to the capital from Chelyabinsk got the title. A skinny and very tall Natalia (her height is 181 cm) continued the vogue for slim russian brunettes with blue eyes. However, in contrast to the Russian ones, western models of beauty changed and a girl didn't gain success on international contests.
2012. Russian Rapunzel
A beauty from Smolensk Elizaveta Golovanova was called a Russian Rapunzel for her extremely long hair (so the heroine of the tale of brothers Grimm was called whose hair length exceeded the height of the tower where she was locked). Together with the victory of the grey-eyed chestnut girl, the model of 'calm beauty' of the Russian midland came back to the contest.