Beauty is a terrible force ... if it is skillfully used, a woman can achieve great results - such expression existed before the era of the Soviet Union. In this case we are talking about external beauty ... but unfortunately only the external beauty of a woman is not enough, if she wants to be loved and be happy in marriage. There is also the concept of inner beauty, the harmony of the human soul, kindness. The inner beauty and the outside should be interrelated.
In Russian, there is even a saying: The eyes are the mirror of the soul! It turns out that the map inside a woman's beauty is in its external component. And such beauties are the Russian women, because they know how to love, compassionate, their hearts are open to people, they are full of goodness. In the opinion of foreigners, young Russian girls have unearthly enchanting beauty, which reduces men`s minds in the literal sense.
Russian women are skillfully using make-up, have a great taste, fashionably dressed, occasionally sit on different diets (some of them are actually starving), because they do not want to gain a few extra pounds, wear uncomfortable shoes on high heels and all this is just she needs to love herself and people so people pay attention to her. And, if you notice, Russian women are the owners of lush healthy and shiny hair, which give some dignity to even the average Russian woman. Well-groomed hands, legs, eyebrows ... in a Russian woman, everything must be fine. Even if a Russian girl is going to the store she is preparing for a journey during a long time, puts on light make-up, wears a skirt or wears high heeled shoes... because every time leaving the house- it's like a holiday ...
No Russian woman leaves her home in pajamas or in dirty clothes, which is unfortunately a characteristic of many American women, because they do not take it so hard, do not give such trifles matter. Sometimes it is very difficult to guess the age of a Russian woman, because she always looks after herself, for her skin ... According to Russian women you always have to remember about healthy living, natural food, good sleep... all these factors must be taken into account by each woman, if she wishes to renew her youth and stay beautiful longer.
Read also -
a few words about the attractiveness, beauty, sexuality and femininity of Russian women
and
our new article
- The beauty of the ukrainian girls –is it a fact or a myth?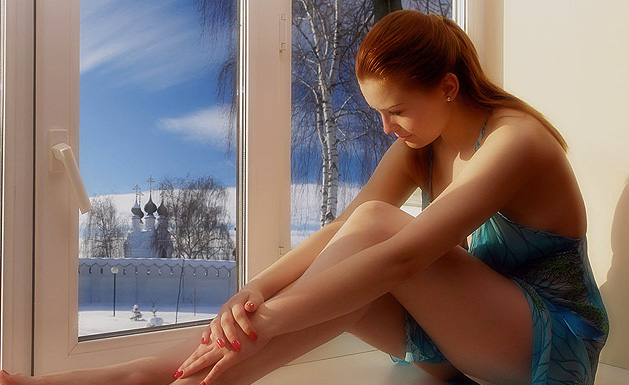 One can say that a reputation of Russian brides as the most beautiful girls in the world is confirmed in social networks as well. Exquisite silhouettes, angel-like faces – they will drive everyone they meet on their way crazy. A bright example of it are profiles of Russian beauties in Instagram. Read and see photos